Latest posts by Chris Robinson
(see all)
We have all heard that old saying, "you get what you pay for". Well, this rule definitely applies to burglar alarm systems. The truth is, some security systems are cheap and some are expensive.
Over my 25 plus year career in the security industry, I have researched, sold, installed, and because we have our own central station at American Alarm Systems, watched alarm signals for more hours than I would like to admit.
In this blog, I will tell you how much a burglar alarm system costs so that you will understand what you are about to purchase.
Burglar Alarm System Costing Basics
I have some good news for consumers, more security systems are being installed each month, which drives costs down as well as makes them more affordable.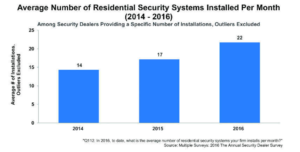 As you can see in this bar graph above, security system installations are on the rise and so is consumer awareness.
I hear this all the time in my daily operations management of American Alarm Systems.
How much does it cost?
I don't think I can afford it.
This other company can do it cheaper.
Do you offer any discounts?
Wow, that much!
I have many other objections potential clients tell me, but I think you get my point.
People have reasons not buying an alarm system. Look at the data from this pie chart. 19.05% of the surveyed people indicate that they cannot afford it.
Of course, price is always a concern, but if I told you an alarm system is affordable, would you buy one?
6 Expenses That Determine How Much Burglar Alarm System Costs
Some security systems are really cheap. Word to the wise, be careful with these ones, you get what you pay for.
1. Equipment Cost
Quality security systems made by proven manufacturers in the security industry, have years of dependable products, are more technically advanced, and have numerous sensors that can be installed.
Here are some average costs of quality wireless security system panels and devices. Of course, this varies, but some are some basic guidelines for quality security system components:
Main control panel = $150.00
LCD Keypad = $90.00
Wireless Door/Window Contact = $25.00
Wireless Motion Detector = $60.00
Wireless Glass Break Sensor = $65.00
Wireless Smoke Detector – $75.00
OK, the equipment seems affordable, but what main security control panel should I install in my home?
If you want to install a system into your home, I would recommend at 2GIG Go! Control panel. This panel has outsold all other panels and is considered the, "Apple" of the security industry.  They are the leaders, other manufacturers are followers.
Here are some features of this main control panel:
Color touchscreen interface – This intuitive, user-friendly interface is found on the 2GIG GC2 System, and with your computer (internet) and web-enabled phone—you have access when and where you need it.
GSM (cellular) radio – It has the most reliable communication option available in the security industry. Homeowners do not have to be concerned with cut phone lines or rely on a standard phone line for communications.
Integrated two-way voice – The panel allows the central station to listen in when an alarm occurs and talk to the homeowner when a signal is received.
Built-in Z-Wave RF Protocol – Customers can now control lighting, HVAC, and other Z-Wave appliances in the home right from the panel, web-enabled phone, or the internet. No need for extra hardware—it's all contained within the panel.
2. Installation Cost
This cost is different from company to company. If you purchase a security system on Amazon and cannot install it yourself, then you will have to hire an alarm company to install it for you.
Most alarm companies that will install a consumer security system usually charge a $99 installation fee plus monthly monitoring fees.
When buying a system online, be aware that most of the time professional alarm companies will not install consumer bought products! Why? Alarm companies do not know if the purchased products are used, do not work, or have compatibility issues.
Buying burglar security systems and devices from eBay really makes alarm companies run away from a sale. Most alarm companies would rather supply and install their own equipment rather than go through this hassle.
3. Monthly Monitoring Costs
This is where monthly costs can vary depending on what services you desire.  In today's marketplace, you can have a professionally monitored or a self-monitored security system.
Some people would rather pay an alarm company the monthly monitoring rate instead of buying a self-monitored security system. Professionally monitored security systems require a monthly monitoring fee that can range from ($20 to $60) per month.  When determining how much a burglar alarm costs consumers need to realize that if they add more features, the price will increase.
Many people ask themselves, why do I need to pay for monitoring?
Professional burglar alarm companies provide 24/7 protection against not only break-ins, but also other dangers such as smoke, fire, carbon monoxide, glass breaks, flood, and monitor smart home devices.
If an alarm occurs, don't you want that peace of mind knowing that you are protected by a highly specialized professional central station Most of the time the answer to this question is yes!
You could buy and install a system that you can monitor yourself, but what if something like this occurs.  Let's say that you are away from your home, an alarm occurs, you receive a text message, and it is an actual burglar breaking in.  What do you do?
If you are close to home, you could enter the home? Scary!
Call a friend or neighbor and tell them to check it out? Risky!
Call the local police? Do you have the right number?
Do nothing and take your chances?
All of these options are not very smart ones.  They all have outcomes that are not certain and some place a high degree of danger on yourself or others.
Now you tell me if this sounds like a more intelligent solution.
The same scenario happens, but this time you are monitored by a professional central monitoring station like American Alarm Systems.
The call center receives an alarm signal and informs you that an alarm is occurring at your home.
Central station dispatches the local police department that they have on file.
The police department enters the home.
The police call the Central Station and updates discovery of what they found.
This seems like a safe and secure solution with little risk and a better outcome.
4. Additional Protection Cost
Most burglar alarm systems come with the basic components listed below:
Main control panel
Keypad
Wireless door/window sensors
Wireless motion detector
Siren
Back-Up Battery
Any devices over this basic package will cost more money.
One device I would highly recommend is a cellular communicator by alarm.com. This costs around $150 depending on the unit and provides some amazing features:
Arm/disarm online or with your smartphone
Receive email and text notifications on an event
Add video doorbell, thermostats, cameras, locks, and control lights
Automatic notifications your cell phone
Does not require a standard phone line.
Interact with your alarm from anywhere by looking at live video, or answering your front door while you\'re at work. Smarter security solutions keep you in control when you are away.
5. Service Call Cost
Everyone should know that at some point electronics will fail, fall off, or just become outdated.  Maybe you have a contractor performing work at your home or business and want to add sensors.  This would require a service call.
You must keep in mind that at some point you will have to invest money to maintain a working system.
Most of the time, batteries are devices that need to be changed.  This could be in the main control panel, a back-up communicator, or a sensor.  Although sensor batteries have lithium long-life batteries, they do eventually go bad.  If you are handy, then you can install the battery yourself, if not then you need a professional to repair it.
Some companies charge for service calls, others may not.  Normally, a service call consists of a trip charge and an hourly labor fee.  Consumers have to talk to their alarm company to determine these prices because they vary from company to company.
6. Tech Support Cost
When you purchase an unmonitored or a do-it-yourself burglar alarm system, you're 100% responsible for maintenance, repairs and replacement costs. This can be a pain for the consumer because the equipment is either outdated, not sold anymore, or too hard to install yourself.
With a monitored system, you can call your alarm company, get technical support 24/7, have them remotely connect with your system, or they can send a tech to your home if the problem cannot be fixed over the phone.
Final Thoughts on Buying Burglar Alarm Systems
There are many factors that determine how much a burglar alarm system costs. Equipment, installation, monthly monitoring, additional protection, service calls, and tech support, all determine your final cost. Although consumers can purchase and install their own security system, a professionally installed burglar alarm outperforms a do-it-yourself system any day of the week.
Professional alarm companies and monitoring stations that specialize in security systems provide cutting-edge services around the clock.  Although the do-it-yourself solution is available, it is an inferior security solution that is not as reliable as a local professional alarm company.
Ready to see what our experts would recommend for burglar alarm systems? Give American Alarm Systems a call at (800) 262-5276 to discuss our security solutions.